Discipleship Training
SUNDAY Evenings at 7:00PM



Current study kicked-off in September, and you're welcome to start now!  

We're studying Ephesians using Dr. Warren Weirsbe's commentary, "Be Rich: Gaining the Things Money Can't Buy". 

 
Previously, we looked closely at the "Fruits of the Spirit" as described in Galations using  "A Life Beyond Amazing" from Dr. David Jeremiah.
Contact Bobby B. or the church (804-575-5777) to receive a copy of the current commentary and join the study group.  You can also just jump in on any Sunday evening to hear that week's topic.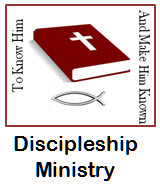 ---
---
Spiritual Gifts