About Us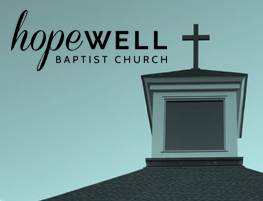 Our goal at Hopewell Baptist Church is to provide a place of worship and fellowship for believers in our Savior, Jesus Christ, and the Holy Bible.
We strive to reach the surrounding community with the love we feel for each other. We hope to share the joy of fellowship we experience at our worship, meetings and outings, and to reach those who need Jesus in their lives.
We provide classes and training opportunities for leadership and growth. It is our desire and obligation to strengthen our congregation through programs and activities to reach the lost in Christ.
You are loved by Jesus and the family of believers at Hopewell Baptist. We welcome you just as you are. Join us and find your new family at Hopewell.
We are a Southern Baptist church--meaning that we cooperate with the Southern Baptist Convention in reaching the world for Christ. You can review more about the SBC and our basic beliefs by clicking their logo below: