Sermons
All Means All
When it says that we have received ALL spiritual blessings upon salvation, how many is that? Really?
We Begin with the Saints
We begin to look at the book of Ephesians by looking at the church of Ephesus and who they are according to 1:1.
---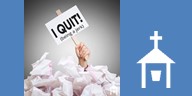 I Quit Being the Problem
Consider yourself - are you the problem?
I Quit Quitting
Somethings you can quit. Just make sure you do not quit the most important thing.
I Quit Life
Life's Answers are in HIS WORD. A special message from the pastor of New Hope, Neil Leider.
I Quit Loving This World
This world is not my home!
I Quit Being a Religious Robot
Why do we do, as the Church, what we do? Have we boiled the Gospel and Kingdom living to a robotic form?
I Quit Being a Distracted Dad
Fathers Day. And the message is for all of us.
I Quit Being a Thermometer
A thermometer is circumstantially led. A thermostat influences its surroundings.
I Quit Being a Jerk
I quit! As youngsters we are taught to never quit.. As we age we realize quitting is easier than we thought. As we mature the challenge is what should we quit. Let us explore those things worthy of waving the white flag of surrender to. The areas in our life needed to fully realize who we are in Christ. Join us as we quit!
---