Past Sermons
Conclusion
The end. After 20 weeks of walking through the Bible with 20 C's, the conclusion reminds us why the Bible matters.
Condemnation
The Great White Throne
Coming
The incarnation guarantees the coronation.
Chastisement
The 7 Year Tribulation is the time God will pour out His wrath on the sin of the world. Thankfully, the wrath of God has already been satisfied through the finished work of Jesus Christ on the cross. Would you accept His grace and mercy now or be subject to His justice later?
Caught
The Rapture. God always keeps His covenants!
Church
The Church - created by God, for His glory.
Conquer
There are few people who have ever been changed greater by the resurrection of Jesus than Peter. Peter had to learn hope after he crashed and burned at the trial of Jesus and saw God conquer all his fear with hope.
Conception
The birth of Jesus is simply proof that nothing can stop our unstoppable God.
Construction
Ezra and Nehemiah close the OT with another display of Israel's inability to learn. Now allowed back to their Homeland, they just will never learn. In the midst of their struggles, Nehemiah steps up as a leader from whom we all could learn a thing or two.
Captivity
They wanted Kings, they got Kings. Kings that led them astray and right into the hands of God's punishment.
---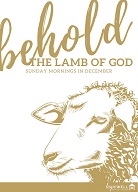 Silence of the Lamb-Part 2
400 years of silence does not mean that God was not at work. Rarely discussed but critical to the story are those 400 years. Silence finally broken by the cry of a baby born in Bethlehem.
Silence of the Lamb-Part 1
The background to a story is often as interesting as the story. As we endeavor to see the full tall tale of the coming Messiah, we begin to see God clearly directing traffic all along History. The pieces begin to fall into place....
Behold the Lamb of God-Part 2
The story continues.
Behold the Lamb of God-Part 1
The story of Christmas is not just Luke 2 and Matthew 1, rather it is the story of redemption. This story is not in just 2 chapters, but rather it is told throughout all of history. The Old Testament is a reminder that God keeps His promises.
---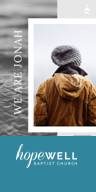 Jonah: Endgame
The book does not end! Well, at least not clearly. So what is the point of Jonah and did Jonah even learn a lesson? I believe that is answered by one bit of overlooked reality.
The Petty Prophet
People. Weeds. Which is more important? Jonah get a little confused.
The Pouting Prophet
We humans are idol making machines. Jonah 4 is a play by play of Jonah's idols and why Nineveh's revival leaves him wanting to die.
Revival of the Hopeless
The greatest miracle in the story of Jonah? Not a fish or 3 days inside of it. Rather the revival of an idolatrous, violent, wicked city. The Great Nineveh Revival - and it was started with an 8 word sermon
When a Fish Went Manning
The Psalm of Jonah. Not only a heartfelt cry to God from the belly of a fish, but instrumental to the rest of the book of Jonah.
Here I Am, Send Him
Surely God didn't mean ME when He said, Go and tell others
I Am Jonah
Intro to the Book of Jonah - we're more like him than you might think
---
Stand
Paul wrote 2 letters (that we have) to the Corinthians. 29 chapters to one church - making it the longest book (if it were one) in the NT. What was the struggle? We conclude 1 Corinthians with a look at the solution to their issues.
Death
1 Corinthians 15 concludes with Paul teaching on our own resurrection, which is made certain through the resurrection of Jesus. The last enemy to be defeated is death!
Ressurection
1 Corinthians 15 deals with the reality of the resurrection of the saints. But, before that can even be spoken of, there must first have been one all important resurrection to make all others possible. The resurrection of our Lord and Savior.
Order
1 Corinthians 14:20-40. The Circle 7.
Confused
1 Corinthians 14. The Circle 6.
Love
1 Corinthians 13. In context. The Circle 5.
Body
1 Corinthians 12:12-31. The Circle 4.
Gifts
1 Corinthians 12:1-11. The Circle 3.
Careful
The last half of 1 Corinthians 11 deals with order in how we observe the Lord's Supper and a reminder to be careful to observe it reverently. The Circle 2.
Delicate
1 Corinthians 11 deals with the delicate topic of order in worship. The Circle 1.
---

Know: The Great Exchange
Romans 3:19-26 Our assurance of salvation is not based on anything we have or can do. It is solely based on the finished work of Jesus, and, therefore is held secure in Jesus
Salvation--More Than a Feeling
Salvation. Is it a feeling? A prayer you said when you were younger? Your name and some obscure date written inside a Bible? What is salvation and how can I know that I know that I know that I am really saved?
Treasure
Where your treasure is, there will your heart be also. Celebration Sunday for "Deep Roots, New Growth" capital campaign.
Why Pray?
Why should we pray? Because of who we are, we NEED to pray.
Without Prayer
What can YOU do without prayer?
Looking Back, Moving Forward
Acts 4:23-31
Christian Marriage - part 2
1 Corinthians 7, at its heart, talks about being who we are. Whether single or married, embrace what God has called you to and serve Him faithfully.
Christian Marriage
1 Corinthians 6:12 is the prelude to chapter 7: exploring Whose we are--to help us understand, whether married or single, who we are to be.
Judging One Another
1 Corinthians 4 - We can do it for applause. We can do it for praise. But, only what is done for the cross will last.
Foundations
1 Corinthians 3 Are we building on Christ alone? if so then all that will matter is what furthers His Kingdom. Our rights become null and void and our eyes become set on knowing God and making Him known.
A Foolish Sermon
I Corinthians 1 tells us clearly that the Gospel we love is presented in the silliest of ways. Preaching, teaching - no fancy tale or anything that would draw attention to anyone. This foolishness is offered so ALL glory would be shown through God and God alone.
When Your Dream Becomes a Nightmare
Matthew 1: 18-25 The Incarnation was announced. What was to be a time for Joseph and Mary to celebrate became a time of questions, accusations, decisions and struggles. Joseph woke up to a nightmare! But the lesson is, instead of asking "Why?", ask "Who is in control?"
From our 2019 Summer Kickoff with Timothy Mark (June 9-12, 2019):
Wilderness of Testing: Emotional
Wilderness of Testing: Spiritual
Wilderness of Testing: Physical
Lessons from the Valley of Wait